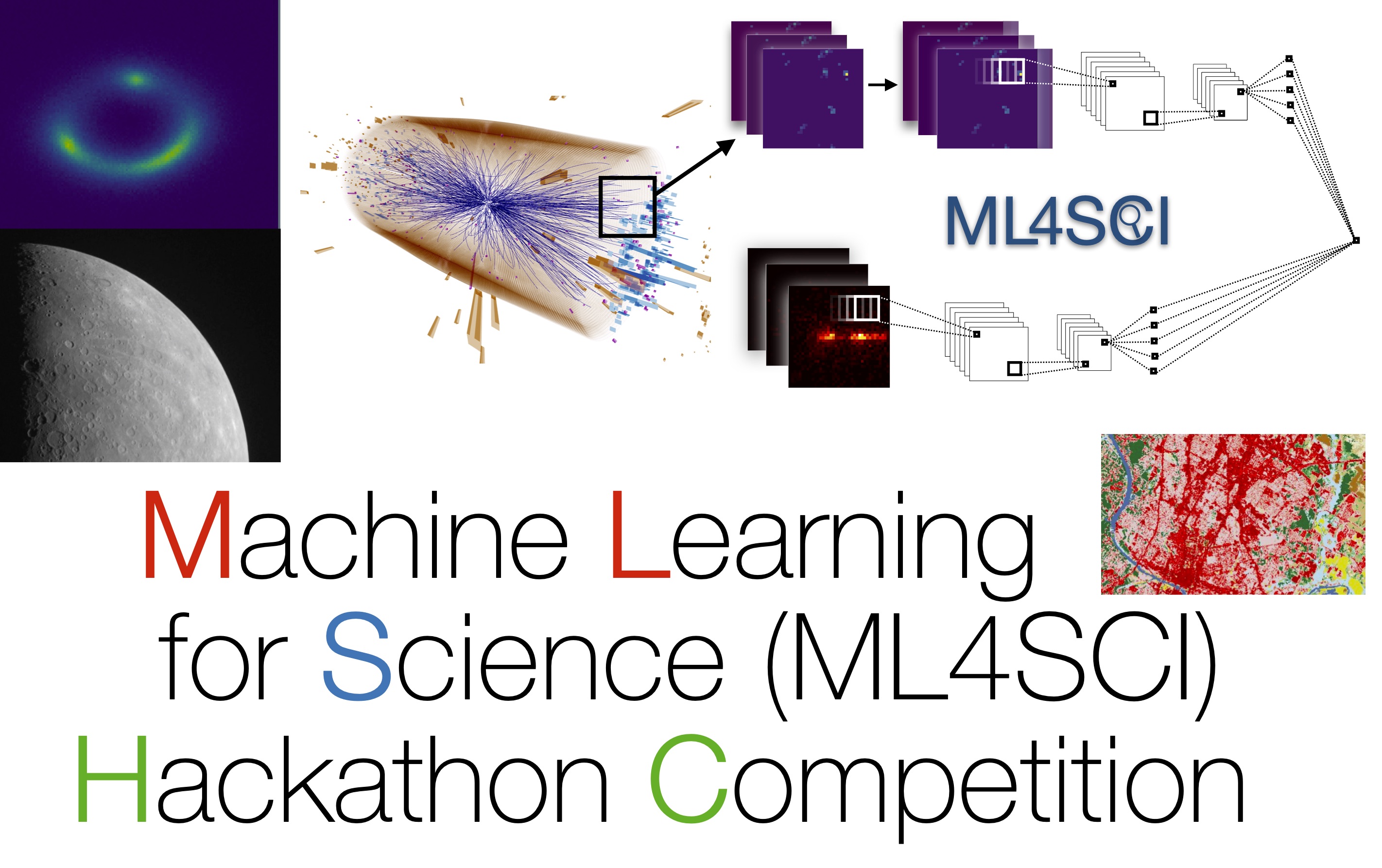 ML4SCI Hackathon 2020
We are pleased to announce the Machine Learning for Science (ML4SCI) Hackathon Competition that will take place virtually from October 26-30, 2020. The competition is sponsored by the University of Alabama Cyber Initiative and the Brown Data Science Initiative and is open to anyone interested. The hackathon will focus on applying machine learning techniques to scientific challenges, including those from the fields of physics, astronomy, planetary science and geoscience.
The agenda for the hackathon can be found here: https://indico.cern.ch/event/966872/
Anyone interested in learning more about machine learning techniques and trying their hand at the competition is welcome. The kickoff Zoom meeting is on Monday, 26 October at 4 PM US Central Time (5PM EDT). There will also be an introductory machine learning lecture by Prof. Harrison Prosper (FSU) on Tuesday, 27 October at 1:30 PM Central.
Interested participants can register via Slack at https://bit.ly/3noij1V.
There are six main challenges:
Higgs Boson Challenge (Classification, General)

Particle Images Challenge (Classification, Computer Vision)

Strong Lensing Challenge (Anomaly Detection)

NMR Spin Challenge (Multi-Target Regression)

Cosmic Rays in Planetary Science Images (Image Segmentation)

Google Earth Engine Challenge (Anomaly Detection)
Please find more details and example Jupyter notebooks inside each challenge folder.
Solutions are due on Friday, Oct 30 at 7pm EDT/6pm Central time. Winners will receive certificates and prizes. For any questions about the ML4SCI Hackathon please contact Prof. Sergei Gleyzer sgleyzer@ua.edu
Agenda
Monday, 26 October
17:00-17:15 EST: Welcome remarks
Speakers: Jeffrey Carver (UACI), Meenakshi Narain (Brown University (US)), Sergei Gleyzer (University of Alabama (US))
17:15-18:30 EST: Kick-off session
Speaker: Sergei Gleyzer (University of Alabama (US))
Slides Recording
Tuesday, 27 October
14:30-15:30 EST: Introduction to Machine Learning
Speaker: Harry Prosper (Florida State University (US))
Recording
17:00-18:00 EST: Hackathon Office Hours - CosmicRayChallenge
Speaker: Patrick Peplowski (JHUAPL (US))
17:00-18:00 EST: Hackathon Office Hours - General Questions
Speaker: Sergei Gleyzer (University of Alabama (US))
17:00-18:00 EST: Hackathon Office Hours - GoogleEarthEngine
Speaker: Brad Peter (University of Alabama (US))
17:00-18:00 EST: Hackathon Office Hours - HiggsChallenge
Speaker: Ali Hariri (American University of Beirut (LB))
17:00-18:00 EST: Hackathon Office Hours - NMR
Speaker: Stephen Carr (Brown University (US))
17:00-18:00 EST: Hackathon Office Hours - Particle Images
Speaker: Emanuele Usai (Brown University (US))
17:00-18:00 EST: Hackathon Office Hours - StrongLensing
Speaker: Michael Toomey (Brown University (US))
Wednesday, 28 October
12:00-13:00 EST: Hackathon Office Hours
17:00-18:00 EST: Hackathon Office Hours
Thursday, 29 October
12:00-13:00 EST: Hackathon Office Hours
17:00-18:00 EST: Hackathon Office Hours
Friday, 30 October
Solutions/Submissions Due
Monday, 16 November
Results Announced
Monday, 30 November
| | | |
| --- | --- | --- |
| 18:00-19:00 EST: Challenge Winners - Going Over Solutions, Wrap up | Speaker: Sergei Gleyzer (University of Alabama (US)) | Slides |
---
ML4SCI Admins ml4-sci@cern.ch
---